Slussens pop-up restaurant
David Lundqvist, winner of the prestigious competition "Årets Kock 2018" together with Julian Sohlberg, sommelier invites you to Social Fine Dining in the pop-up-restaurant Hallins Hus. Hallins Hus opens in mid-February and is bookable every Friday and Saturday until the end of March.
We'd like to invite you to an intimate and exquisite taste experience, in several servings with the best from Slussens surroundings – served with selected and exciting drinks. We set up long tables for 22 people – like a family dinner in fine dining format. The goal of Hallins Hus is to celebrate our region in all that it has to offer in terms of ingredients, history and culture.
We also welcome groups of more than 10 people on other days of the week, email your request to info@slussenspensionat.se.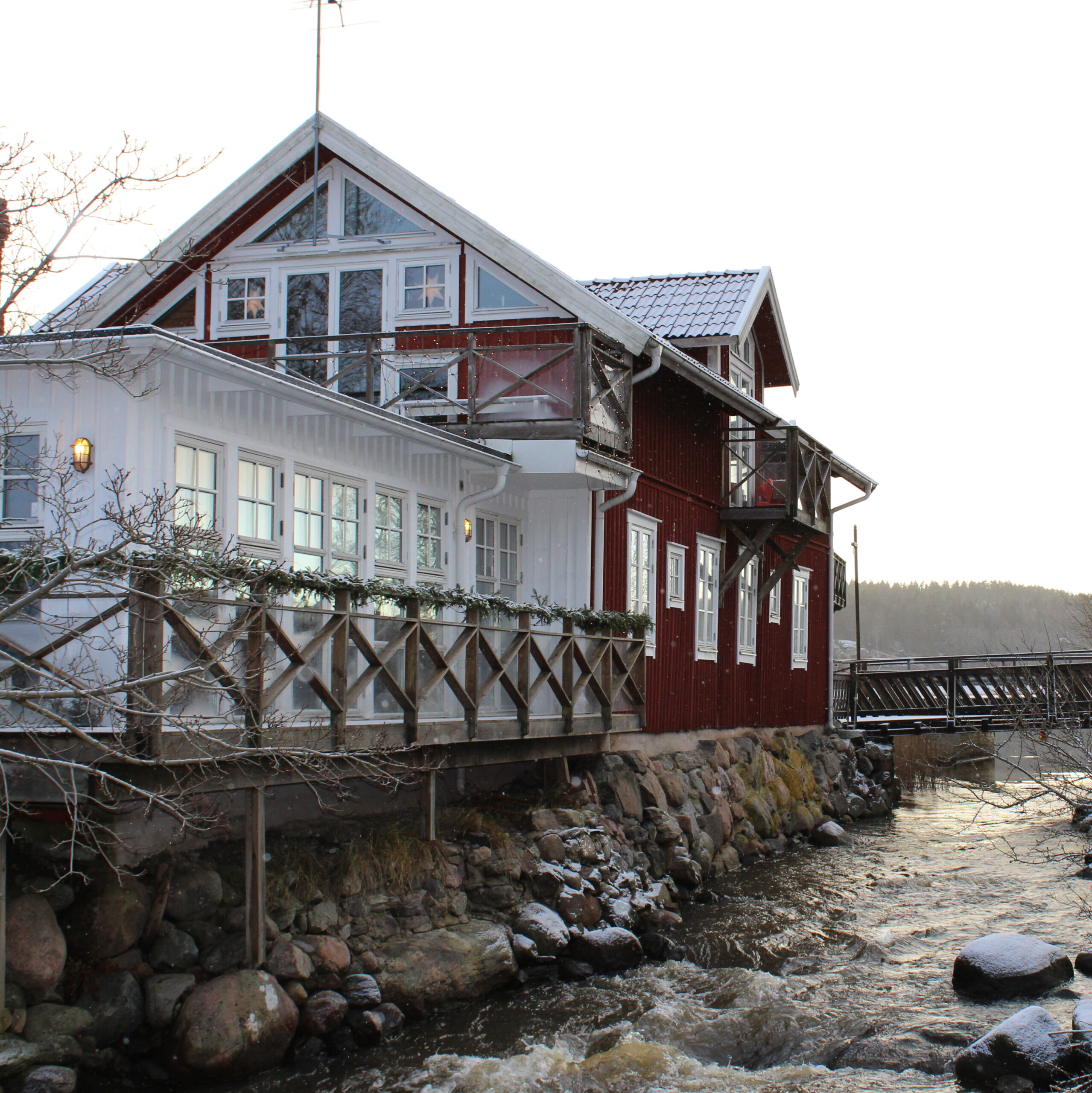 Arrival & Check-in
Welcome to Hallins Hus!
At arrival, you'll receive the keys to your cozy room for the night. You will also be served a Swedish Fika and freshly brewed coffee.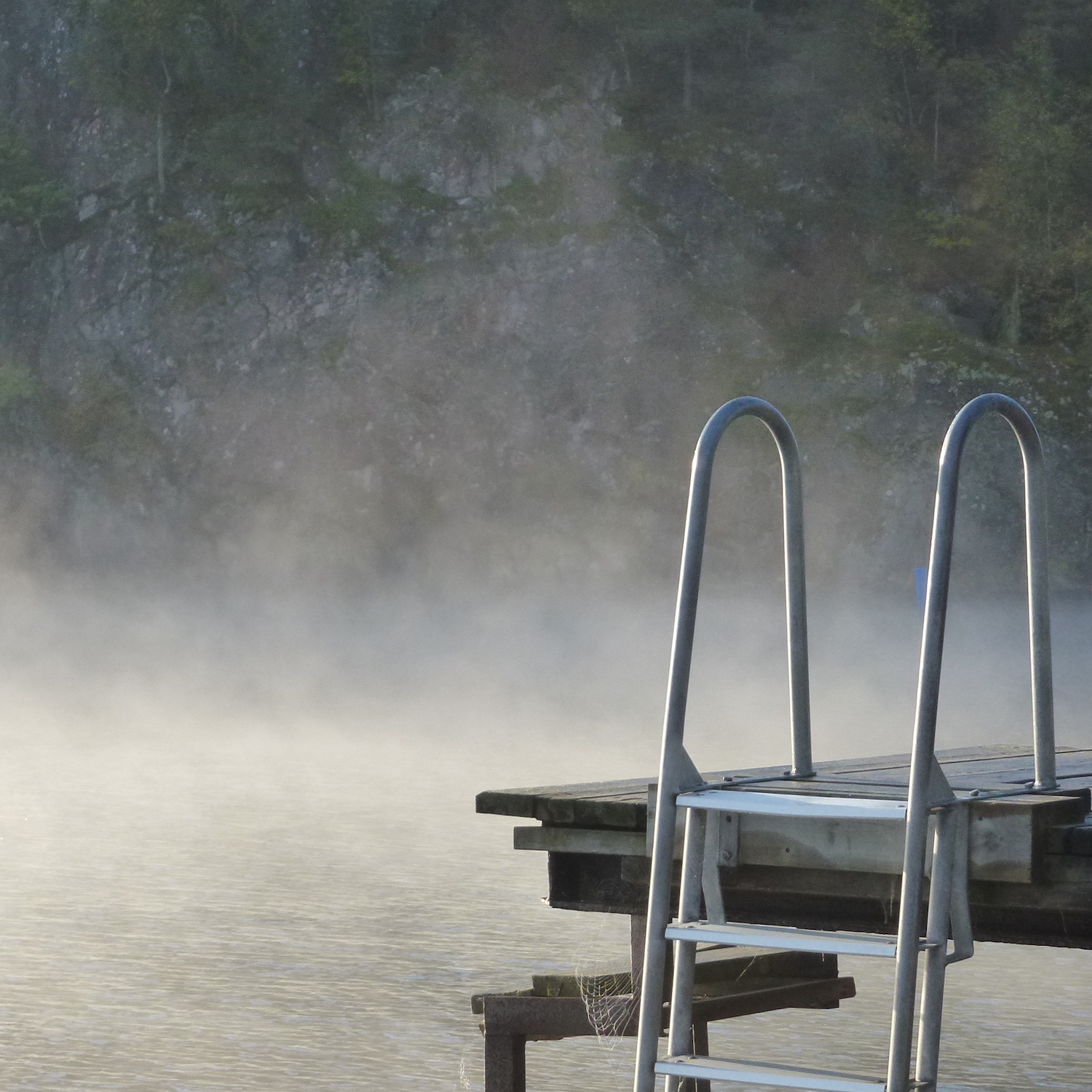 Relax in the sauna!
Enjoy our Finnish wood-burning sauna, and an ice-cold salty dip in the ocean, or two. If you fancy something else, we have amazing trails where you can enjoy a walk in our beautiful surroundings.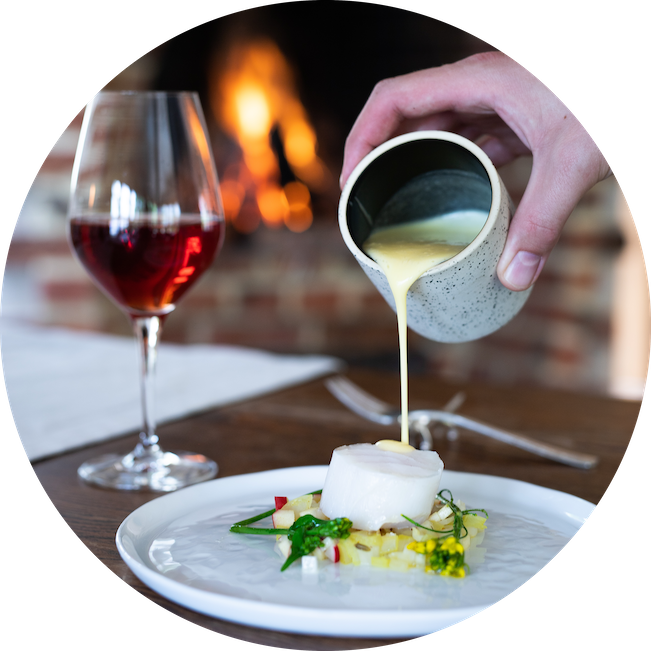 And finally it's dinner-time!
The highlight of the stay. You will be seated at a long table, along with other Food Lovers – we call it a family dinner in fine dining format. The evening offers committed servings with fire & smoke, food conversation, and all the best you can imagine from Slussen's surroundings, forest and sea.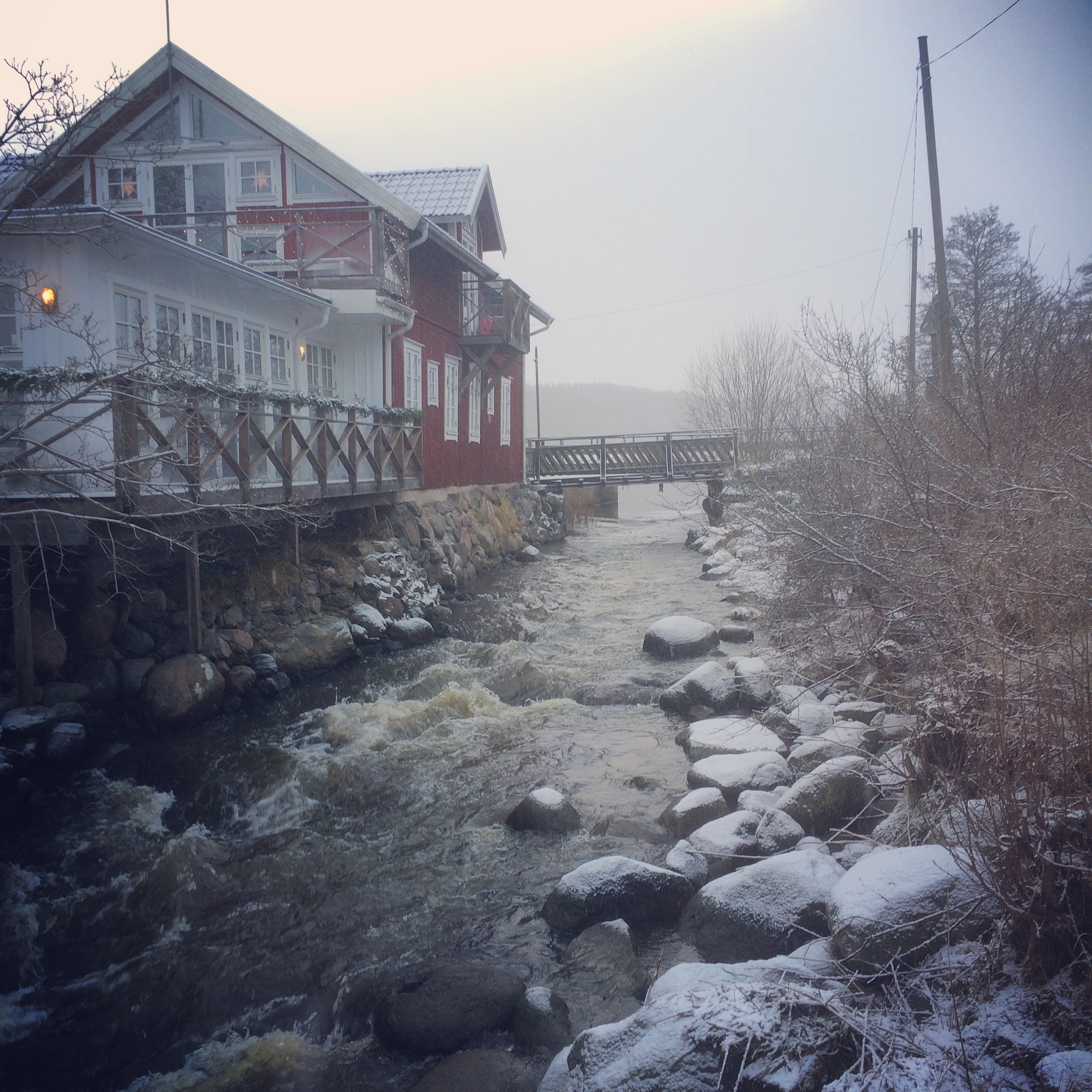 A good sleep & breakfast
After some new exciting flavors and new friendships, you'll enjoy a good night sleep in one of our peaceful rooms – and before the journey home, a locally produced, hot breakfast is served.
David Lundqvist winner of "Årets Kock 2018" – Swedish Championship in professional cooking, together with Julian Sohlberg, sommelier and wine nerd, invites you to social fine dining. Together they're doing what they are most passionate about – gastronomy with big experiences in a small format.
They pick wild mushrooms and berries, look for seaweed at the water's edge, pickle, ferment and dry their summer finds from the garden and hedgerows. They seek out the nearest growers and livestock breeders, make sure they get the finest fish and source the best shellfish. They taste wines and other drinks from innovative and local producers, and fill the wine cellar with natural wines and rarities.
At check-in you receive the keys to your cozy and personal room for the night. All rooms are furnished with sustainable materials mixed with thrift shop finds. At check in we serve Swedish fika and hot coffee/tea.
In between fika and dinner, you can either enjoy a walk in the beautiful sourroundings of Slussen or by relaxing in our sauna that is placed right next to the ocean. The brave one might take a icing gold dip in the sea?
Dinner starts at 6 o´clock upstairs in Hallins Lounge. Here you enjoy your two initial servings together with a drink that marries what you eat. The dinner continues downstairs, in front of the fire in the glass veranda – and you'll be seated in community table seating.
David Lundqvist prepares the upcoming servings in front of you, and a story or two is told. The evening continues with a total of around ten to fiftheen servings. Everything is prepared à la minute, sometimes on the charcoal grill outdoors and sometimes on the fire indoors. You will be guided through the meal and drinks. After dinner, you'll enjoy a coffee and maybe an avec, upstairs.
Looking forward to a wonderful February and March!
David & Julian
Hallins Hus / Slussens Pensionat
Hallins Hus
Visiting address:
Slussen 427
473 92 Henån
Postal address:
Box 100
473 23 Henån